Nick Fierro
August 29th, 2023
Comfortable in Chaos
UFC fighter Daniel Rodriguez, known as D-Rod, has been surrounded by chaos his entire life, he is now learning how to channel it.
Calm under pressure, comfortable in chaos, grace under fire, any way you spin it, that's Daniel Rodriguez, or D-Rod as he's professionally known. The soft-spoken striker from Los Angeles made his UFC debut in 2020, but he's been fighting for most of his life, both in the ring and out. "I was an aggressive kid," Rodriguez tells us, "but everybody grows up. Personally, I'm just really calm in uncomfortable situations. A lot of people say that when I fight I look really calm in there, but I just feel like I'm at home." 
By the age of 22, Rodriguez had been in and out of the LA County jail system 20 times, something that molded not only his personality, but his outlook and his fighting style. "I would just be in and out of jail nonstop," he explains. "I was a kid! I was really immature. I used to get out of jail, and I'd stay out for a week or two, sometimes a month or two, but then I'd be back for another six. That shit added up, and I was an aggressive little guy. I'd get into a lot of fights when I was younger, especially in jail." 
D-Rod's fighting style evolved, in part out of necessity, but it was his love for boxing that would ultimately draw him to MMA. "I grew up loving boxing," he explains. "That's what I actually wanted to be when I was  growing up, a boxer. I always loved fighting. I lived in these ghetto-ass apartments, pretty much the projects, but I was the dude that always had boxing gloves. I'd always try to get people to fight."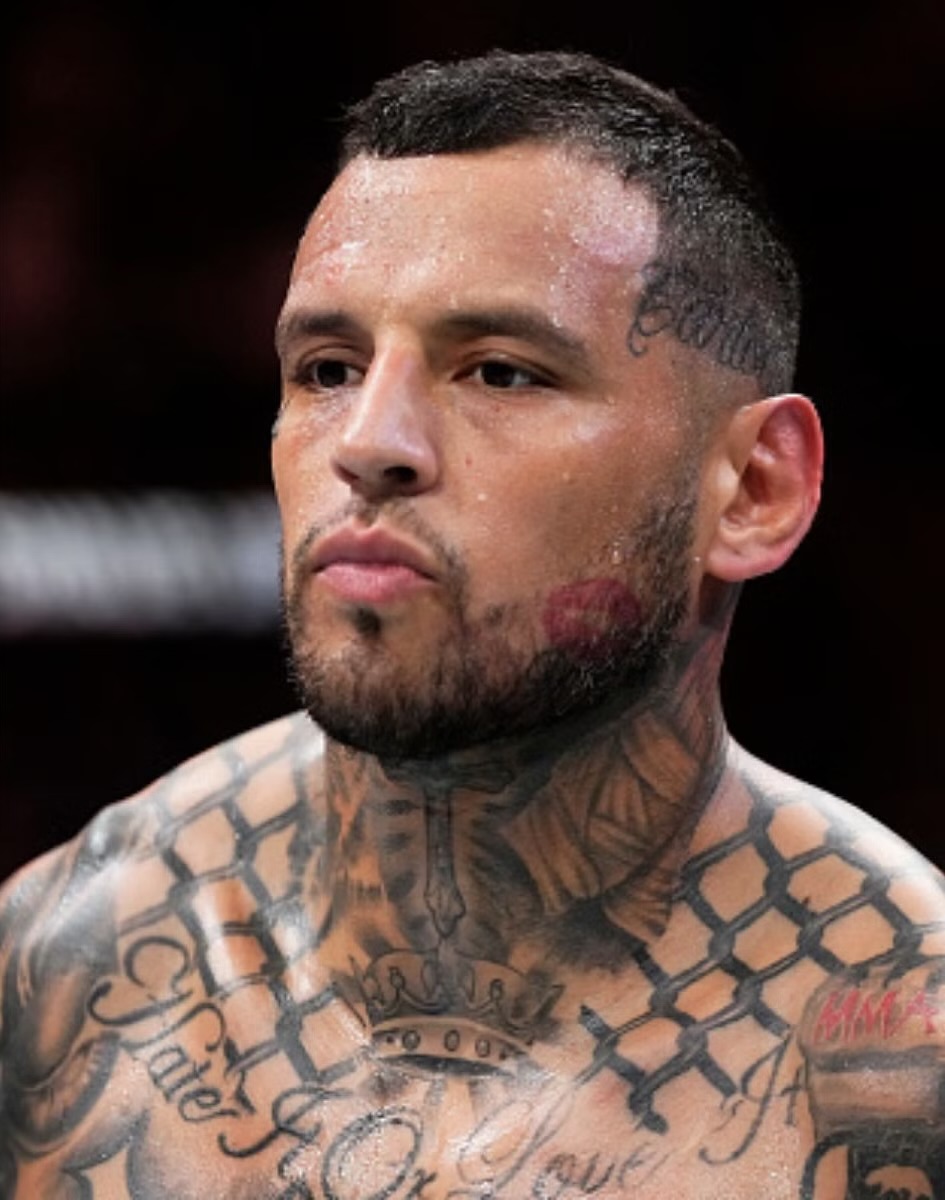 Yes, you read that correctly, D-Rod would lace up his friends and get them to box. His love of the sport became a driving force in the discipline that led to his inevitable success in the UFC. Constantly training, utilizing his killer instinct, all D-Rod needed was a spark to channel his focus. "It was this one time I got out of jail, and I showed up to my cousin's house," he recalls. "He was watching a UFC fight, it was Quinton "Rampage" Jackson vs Forrest Griffin. I saw that shit and I fell in love with it." D-Rod was hooked. 
Quickly joining a local gym, Rodriguez trained tirelessly for the love of the sport, but it wasn't until he watched a match in person that he thought his passion could become a career. "I never fought in a controlled environment," D-Rod tells us. "Just watching a fight I was like, 'Yo this is kind of safe.' A ref can stop it, I don't have to worry that I might die. I'd been through enough shit and enough crazy situations where I was like 'I can do this.' Since I started a little bit later, I'm not all beat up as much as these other guys who have been doing it forever. I'm still kinda fresh"
"I would just be hitting the punching bags," he continues, "and little by little I'd start throwing kicks and elbows. I taught myself enough so that when I got to the gym, I had some kind of skill or some idea of what I was doing." Rodriguez's natural skillset, and years of training in and out of the ring immediately caught the attention of the coaches at the gym. "I was never scared to fight," he says. "It just comes natural to me. I think that's what my coaches noticed about me in the beginning, that I had that killer instinct."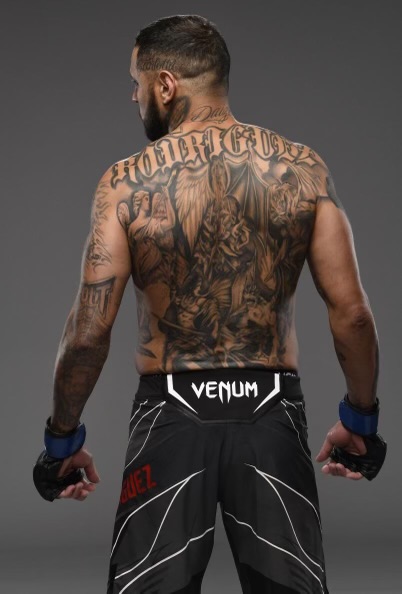 Watching D-Rod's career flourish, you can't help but notice his constantly progressing style—a mix of strikes and holds, a technique forged by years of training and sacrifice. You'll also notice an impressive and similarly evolving collection of tattoos. From his collarbones to his legs and back, his collection of ink has grown alongside his victories in the ring. "Yeah, for my first UFC I'll look back like 'Damn, I had no tattoos,'" he says. "Fight after fight it just keeps adding up. By the end of my career I'm gonna be [covered] head-to-toe." D-Rod's connection to tattoos, much like his connection to fighting, goes back well before his days in the ring. "In LA it's kind of like a cultural thing, everybody's tattooed up." he says. "My mom and dad were both gang members, so this shit was just natural to me. My uncles are all tattooed up too, so for me it was just a way of life."
The most noticeable example of D-Rod's evolving tattoo collection can be seen in his backpiece. It's a tattoo that's grown along with him for most of his career, one that encapsulates his daily struggles, his past and his future. "I actually wanted to do my whole body half angels and half demons," he explains. "I started my back with an angel wing and a devil wing. From there I just started getting angels on one side and demons on the other and having them go to war in the middle. Angels and demons fighting over my body. It's deep, dog. It's deep." 
D-Rod is constantly evolving as an athlete, but despite all the chaos, he has remained cool, calm and collected. He's a man who understands how to weave his past into his future, learning equally from his mistakes and his victories. "I grew up as a quiet violent kid," he explains. "Now, when it's time to go, it's time to go. I just handle business." Always looking forward, the fighter, father and mentor is living proof that you contain the power to change your own life and learn from yourself. Or as D-Rod puts it, "If I didn't go through all that crazy shit, I wouldn't be the man that I am now."
Editor's Picks
Music
Lauren Sanderson has been in the public eye for her entire adult life, offering her insights, expressions and perspectives to an audience of millions
More From News Content