Julia Cancilla
October 18th, 2023
Post Malone Reveals He Got a Kansas City Chiefs Tattoo After Losing Beer Pong to Travis Kelce
"I told Taylor, 'Those elbows are crazy... you can't have elbows crossing over the table!'"
No couple in the world is currently receiving as much love and attention as singer Taylor Swift and her new Kansas City Chiefs star boyfriend, Travis Kelce. Post Malone is sharing that love.
On Tuesday, October 17th, Malone appeared on SiriusXM's The Howard Stern Show and recalled challenging Kelce and his quarterback Patrick Mahomes to an intense game of beer pong. Malone lost the game and faced consequences that would last a lifetime.
View this post on Instagram
"What was the penalty?" Howard Stern asked Malone.
"I had to get a Kansas City Chiefs Patrick Mahomes and Travis Kelce tattoo," he responded, adding "They are sweet guys and talented players. It's on my arm."
TMZ Sports obtained a photo of Malone's tattoo, featuring Mahomes' and Kelce's signatures above and below the Kansas City Chiefs logo.
Stern joked that "it is somewhat embarrassing" that Malone lost to Kelce and Mahomes, considering Malone is a beer connoisseur and supposed legendary beer pong player. "No it's not!" Malone replied. "They're athletes! They're athletes!"
Malone, who welcomed his first child with his fiancé in May of 2022, admitted that fatherhood has probably weakened his game. "It automatically takes two points off," he laughed.
Malone mentioned that he had spent some time with Taylor Swift lately and the topic of his beer pong loss to her boyfriend came up in conversation. "I told Taylor, 'Those elbows are crazy… you can't have elbows crossing over the table!'" he laughed. "So I'd like a rematch. I'd like to say here, on The Howard Stern Show: Travis Kelce, Patrick Mahomes – I am so ready."
View this post on Instagram
Post Malone added that he definitely approves of the new couple's relationship, going on to call Kelce "the sweetest dude." He said about Swift, "She is genuinely one of the most kind and considerate [people]… and a fucking hell of a songwriter."
"Nowadays you never really know," Malone said. "You meet a lot of people in the world. And what's cool is, like, it's cool to see people that are successful, much like Taylor and Travis and Patrick, they really give a shit about human beings. And I think that's pretty badass."
Editor's Picks
Culture
"Find something safe to play with, because it's not me."
Celebrities
Paul Wall and Termanology are as refreshing and real as their music.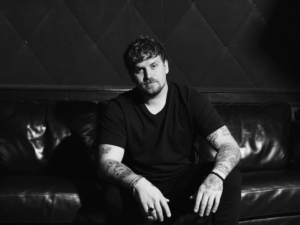 Celebrities
Levi Hummon delves into the intimate intersection of music, personal growth and body art.
More From News Content