Julia Cancilla
October 6th, 2023
Jean Paul Gaultier's Creative Director Continues Legacy with New "TATTOO" Collection
The new collection draws inspiration from JPG's 2009 hand-traced body art collection
The unconventional style of French fashion designer Jean Paul Gaultier has consistently stood out. His unique design approach, explicit motifs and striking patterns have earned him a solid spot in the annals of fashion. Now, his iconic designs are being reborn for current fashion generations.
Jean Paul Gaultier's Creative Director, Florence Tétier, is reinventing classic designs. Drawing inspiration from Gaultier's 2009 hand-traced body art collection, Tétier introduces the new "TATTOO" line.
Tétier has incorporated elements from Jean Paul Gaultier's Haute Couture Fall/Winter 2002 show, with Omahyra Mota and Mia Kidis spotlighting the refreshed designs. The collection presents two shades, boasting form-fitting tops with images of pierced breasts that blend Japanese-art-inspired images, body chain prints and sketches of pin-up boys. Striped outfits showcase sun and rose designs, complemented by quirky tulle outfits reminiscent of dancewear, as well as iconic corsets and mini-skirts.
In a chat with Hypebeast, Tétier shared her vision for the line: "I wanted to capture this past/present nod to well-known campaigns and Jean Paul Gaultier's historic collections. With that, having this day/night wardrobe: someone could perfectly go to work in the morning and end the night raving all night with it – and also go to work the next day without sleeping if wanted. That typical circle of life in an exciting city!"
Take a look at some of our favorite pieces from the new Jean Paul Gaultier "TATTOO" collection below and head to their website to shop.
Jean Paul Gaultier "TATTOO" Collection
The Nude Body Tattoo Bodysuit 
The Long Ebony Body Tattoo Dress
The Short Blue Sailor Tattoo Dress
The Nude Sailor Tattoo Top
The Blue Sailor Tattoo Sleeves
The Safe Sex Tattoo Dress
The White Safe Sex Tattoo Bodysuit
The Pink Safe Sex Tattoo Sleeves 
The Cropped Cuff Denim Jacket
The Sun Tattoo Dress
The Heraldry Tattoo Jumpsuit 
The Nude Tattoo Leather Dress 
The Heraldry Tattoo Scarf
Editor's Picks
Culture
"Find something safe to play with, because it's not me."
Celebrities
Paul Wall and Termanology are as refreshing and real as their music.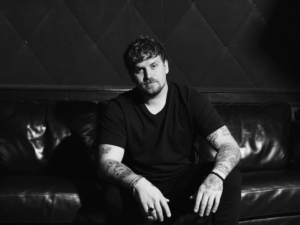 Celebrities
Levi Hummon delves into the intimate intersection of music, personal growth and body art.
More From Style & Fashion