Julia Cancilla
September 20th, 2023
Ashley McBryde
Ashley McBryde loves what she does, and you can feel it as soon as she walks into the room.
Country singer-songwriter Ashley McBryde loves what she does, and you can feel it as soon as she walks into the room. On a cloudy Wednesday, McBryde and her all-girl team walked into Inked NYC and instantly made the place brighter. McBryde is one of the most acclaimed country artists to emerge within the past few years: she's received six Grammy nominations and one win, a CMA award, three ACM awards and was even nominated for a Daytime Emmy. And she's still cool as hell. 
We sat down with McBryde following the release of her vulnerable new album, "The Devil I Know" to talk about early musical influences, gut-wrenching songwriting and dealing with being tattooed on someone's body forever. 
We are here with Ashley McBryde! How did you get your start in music? 
I'm the youngest of six kids, and I've been singing since I was old enough to know that they were throwing shoes at me trying to get me to shut up. I grew up going to bluegrass festivals, things like that, and there were always guitars and instruments in our house. So it's just been constant. There has never been a time that I wasn't making music or at least trying to make music.
Who are some of your earliest musical influences? 
 I just did an interview about one of the biggest and of course, all of us, even the gentlemen, say this: Dolly Parton. And I grew up in a time where we had Patty Loveless, Trisha Yearwood, Lorrie Morgan, Pam Tillis, the nineties when I was, you know, tenish years old, this was huge. I'm old enough now to pick the music I'm listening to. And I had powerhouse females to listen to. 
That's amazing. When was the first time where you were like, "Oh, I can make this a career, I can do this?" 
I remember when I was little, I was really shy and I didn't want to talk to people, but I could sing to them. They're like, "How are you today?" and I'm like, "Oh my God… do you want to hear 'Somewhere Out There' from 'An American Tail?'" And then I started playing and all through college I had a band, played in coffeehouses which turned into bars about an hour and a half away in Memphis. And the very first time I played in a bar, there were some friends to watch this rocker chick play. It's just her and a guitar and on her break, I had gone to the restroom. I came back to the table and she was standing at the table. I said, "Oh my God. It's Carol Plunk." And she said, "Hey, your friends say you play guitar?" I said, "Yeah, I do! And I write songs." She said, "You want to go open my set? Why don't you go do two songs? And here's a tip: if you suck, they will eat you alive." So I went up and did two songs. And the way the bar reacted, I mean, a very small bar in a very… charming part of Memphis… and by charming, I mean dangerous [laughs.] And the way they reacted, I was like, "Huh?" And the owner comes and talks to me and he's like, "Hey, this weekend I don't have anybody to play" because that weekend was Valentine's Day. "Do you want to come play for four hours?" I was like, "I don't know four hours worth of songs." He said, "So come play for two hours, I'll give you fifty bucks." And that's when I was like, I'm basically gonna get my gas paid to just come here and do some shit I would have been doing at home anyway. I would have been at someone's party playing these songs regardless. And this guy is going to give me fifty bucks and dollar-fifty beers. And I just kept going from there. 
Wow, what a story. That's awesome. Your new album just came out, "The Devil I Know." What was the most difficult song to write on that? 
Ooh… I would say "Learned to Lie" was probably the hardest on us to write. The two co-writers Nicolette Hayford and Sean McConnell. I got there that morning and Nicolette was like, "I channeled you last night, pretended I was you." And she comes up with the first part of that verse about, you know, "I must have heard my mom tell my dad that she was tired because babies make you tired. But deep down, she was just really unhappy." And I was like, "Oh, God." And I knew that we were going to have to stay that deep into the quick. And we didn't even know what the hook was. And then we started writing the chorus and we got down to "I wish I had learned how to love the same way I learned how to lie." And I was like "Ohhhh God!"
Oh, chills. 
Yeah, I was like "Let's go smoke…let's go smoke a cigarette right now!" [Laughs.] Yeah, that was brutal. 
Wow. How about the most fun one? 
Oh, my gosh. The most fun one to write… probably "The Devil I Know." Bobby Pinson came into the room with the phrase "There's hell everywhere I go. I'm sticking with the devil I know." And he's like, "I don't know what it's about." And it was so much fun because we're sitting there and he's just playing along and I was like "I used to play this bar in Bardstown Kentucky and oof Bardstown… that's not fun to rhyme with but it's close to Elizabeth [singing] a little outside of Elizabeth town, there's a little bar where I'd sit down and trade a couple country songs for Kentucky Bourbon." And that was so much more fun to say than "In Bardstown, there's this bar where I've puked in nearly every corner." [laughs] I doubt I ever drove home from one of those shows. It was so much fun to write. And getting to turn the phrase, "I'm sticking with the devil I know" and make it mean: I started doing this when I was nineteen in bars, and I think it's working out. And then taking that to a love situation where I go, "It's not always great, but it's what I know." I think that was the most fun. 
I love that. I love that song, too. So you've been touring with Jelly Roll. We love him. We've had him in here before. What has that experience been like? 
When I first met Jelly Roll, we were at some really hectic thing. It was probably during CMA Fest or something and we were just kind of in passing and I was like, "Oh, hi, I love your music! I want to hang out sometime!" Well, then we got to where we were going to be able to write and we got into the room together and it was like we had been friends for a few years and never got to hang out. And so we wrote a song. It's on his record, it's called "Unlive," and I thought he was joking that day when he said, "I think we should tour together." And I said, "You tell me when to show up and I'll show up." And then we get to the tour and I see him. We were walking through probably catering, and he said, "You'll never feel more at home anywhere than you will on my tour." And I figured he meant with him and his crew, and that is true. But it also rang really true for his audience, for his fans, especially being somebody who's covered in tattoos in country music where, you know, being tall and blond and pristine is standard. And I'm short and brunette and covered in tattoos. They're very welcoming. And to see the culture he has created through his rap career, hip hop career and his rock career and now choosing to be with us in country music, you've got people that are in Ralph Lauren stuff, sharing a joint with a carny in the pit and someone who definitely is in the PTA standing there singing at the top of their lungs. And at first you look at the snapshot and go, "These people don't belong together." And then when you realize that they do belong together. His ability to create that feeling of, "Oh my God, we are all the same." It's like he says, "It's real music for real people with real problems." And that's absolutely true. I've never seen an entertainer make so many different types of people feel the same way in one place. 
You keep giving me chills! So you have your own tour coming up. Where are you most excited to go on this tour? 
I'm happy with the entire route, but there are a few places that we've played before that we didn't sell out all the way to nuts and butts. And we have to sell it all the way out to nuts and butts. So one would be the Robinson Center in Little Rock. It's not the biggest place you've ever played, but the last time I played there, we weren't in this position. And the Orpheum Theater in Memphis. I've seen countless Broadway shows and other types of shows in the Orpheum Theater in Memphis. And it is haunted AF. And it's such a joy to be in there because you can tell that the people you're entertaining are all still with us. 
That's amazing. And I'm so glad that you felt so at home with the audience.
Yeah, I talked to my team and I was like, "Where? Where is this crowd? How do I reach more of this crowd?" I want people in active addiction in my crowd. I want people in recovery in my crowd. These are the people that will stick to the devil they know. These are the guys and girls actually going nowhere. They've been told this. They've been told they're pieces of shit by their teachers and their coworkers and their spouses in some cases, and their parents. That's who I want to sing to. 
 How are you hoping your music will evolve over time? Where do you want to go from here? 
To catch hell for being too country inside country music is hilarious. I grew up in rural Arkansas. I used to get a hard time about my accent, so I've learned how to flatten that out over the years. And so to be in country music and for them to say,  "Sorry, that's too country," we really leaned into that on this record. And for the ones that say, "That's too many tattoos and you guys are too rock and roll," we decided to really lean into that too. And then I was worried about things that were tender like "Light On in the Kitchen" and "Single at the Same Time." Maybe that's too tender. We know I do the blinky-blinky girl-going-nowhere finger-picky thing, but I don't care. So we leaned even harder into that and put two of those on one record. I think we are getting more comfortable with the fact that we're a rock band and that we are just very well-dressed carnies. And what I would like to see us do is, let's cover "Highway 40 Blues" by Ricky Skaggs, because that is the countriest, and we can do it really, really well and let's do some more acoustic stuff. Last night I was with Vince Gill and Emmylou Harris at Irving Plaza and it was so much fun to just play guitar. It was just me playing guitar and I love that. And Vince talked about during the show playing music for just the love of music. So whether we are fully in our rock mode or fully in our roots mode, I just want us to sonically be able to portray to you as you're listening to it, that we fucking love doing this in every flavor. We love it. 
Amazing. Do you have any tattoos for your music? 
Yeah. There's a devil in the rearview mirror here on the inside of my left elbow. And that's the devil I know for sure. And this really reminds me that on the new record, there's a song called "Blackout Betty" and one of the lines in that is "I'm a real piece of shit sometimes," and that's not necessarily gorgeous, but it is true. And it doesn't have to be pretty to be true. So I know that this bitch is still in the back seat and she is ready to take over at any time. [Laughs] So I've just got to keep her in the rearview. And the other one would be lipstick and aviators on my right forearm.
And have you seen fans get tattoos for you? 
Yeah, there's been my logo tattooed to people, which I love. That logo was drawn for me by a guy in a bar in Fayetteville, Arkansas. I think that's so cool. My signature. And that one bothers me sometimes when people ask me to sign their arm because I don't want them to get exactly what my Sharpie is doing to their skin tattooed to them because it's going to bleed and your tattoo artist is going to be so mad at me. So usually I'll ask people "Don't get this tattooed. Let me sign your arm and let me write it on a piece of paper." And then there are lyrics, which I'm always happy to see. And then there are those that choose to get my face tattooed to them. And while that is a beautiful sentiment and I love that I get to spend the rest of your life with you in the shower, in the pool, at the gym, you're taking me with you. Sometimes that can feel like it's an "I don't know what to say to you" kind of feeling because it's such a compliment and it's such an unfamiliar way to be complimented. I'm still learning how to be like, "I look awesome on your leg!" [Laughs]
I could imagine. [Laughs] What advice do you have for young women trying to get into the industry? 
Trying to get into country music? You're going to have to play the game, but you don't have to buy in. You can play the game enough that you get to be present. You get to be on the team. And anybody who tells you it's not possible to stay true to yourself just wasn't able to do that for themselves. And it doesn't mean you can't. And by the way, we want you here. I know it can seem like women in country music are catty. We are not. We want you here. We party together. Come on over. 
Editor's Picks
Culture
"Find something safe to play with, because it's not me."
Celebrities
Paul Wall and Termanology are as refreshing and real as their music.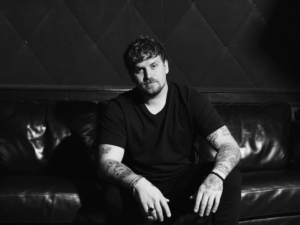 Celebrities
Levi Hummon delves into the intimate intersection of music, personal growth and body art.
More From Music